We are excited to announce the launch of our new factsheet on myalgic encephalomyelitis (ME), with a particular focus on post-exertional malaise (PEM). Available in four languages, we hope this resource will help build a basic understanding of ME across borders.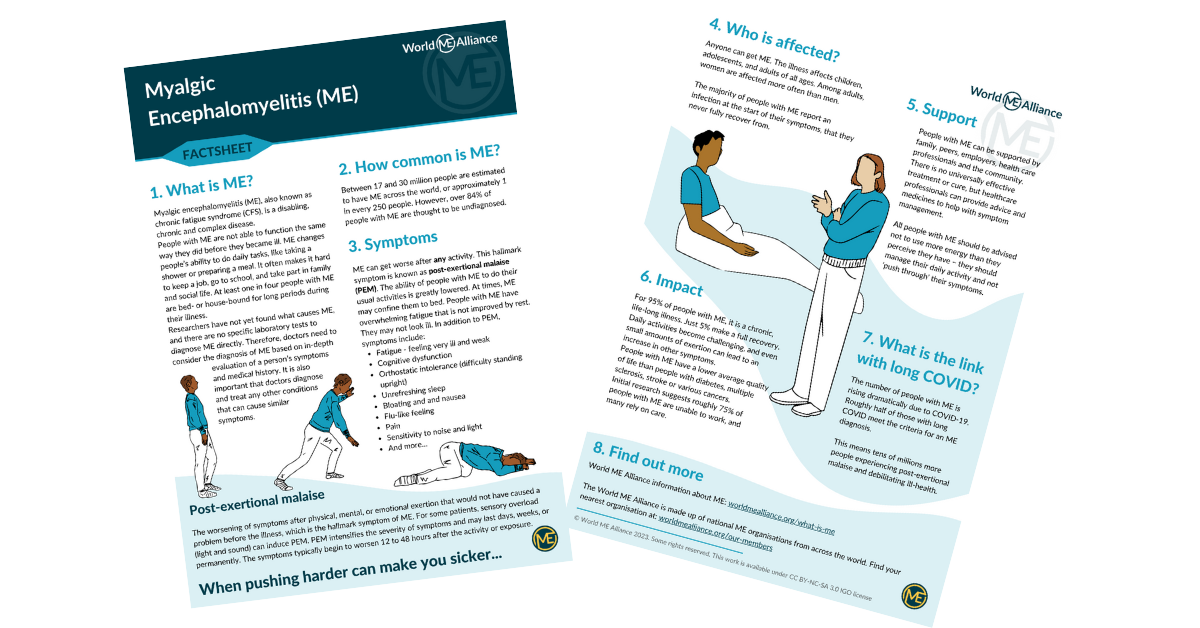 Myalgic encephalomyelitis (ME), also known as chronic fatigue syndrome (CFS), is a disabling,
chronic and complex disease. People with ME are not able to function the same way they did before they became ill. ME changes people's ability to do daily tasks, like taking a shower or preparing a meal. It often makes it hard to keep a job, go to school, and take part in family
and social life. At least one in four people with ME are bed- or house-bound for long periods during their illness.
ME can get worse after any activity, and pushing harder can make someone with ME sicker. This hallmark symptom is known as post-exertional malaise (PEM).
The COVID-19 pandemic has brought this issue to the forefront, with a growing number of people with long COVID experiencing PEM. This has further highlighted the already urgent need for increased awareness and understanding of ME and its associated symptoms.
That's why we're excited to launch our new factsheet, which provides valuable information on ME, PEM, and the impact of COVID-19. Available in English, Spanish, and Italian, as well as an easy-read format in English, our factsheet is a valuable resource for anyone looking to learn more about ME and its associated symptoms.
Download the ME Factsheet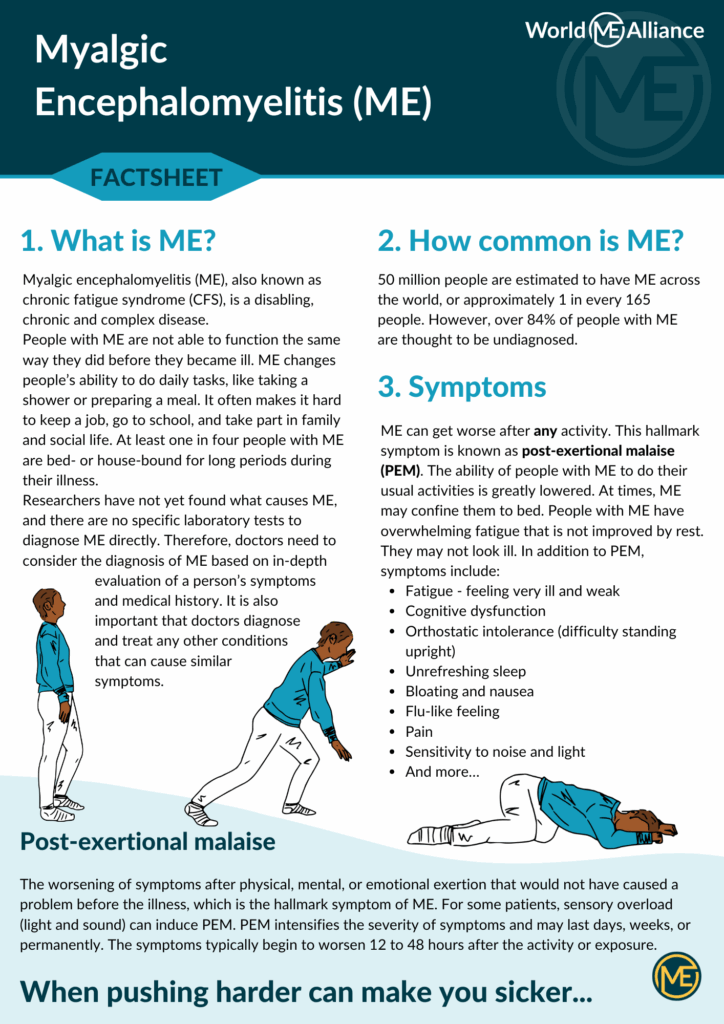 The simple information provided should be known by every healthcare professional, and we hope will give the general public a better understanding of the huge impact of ME.
We are launching this in the run-up to World ME Day on May 12th. This is an important day in the calendar for raising awareness of ME and the issues facing those with the disease. We encourage everyone to visit worldmeday.org to learn more about events and activities taking place on this important day.
Whether you are only hearing about ME for the first time, are a healthcare professional or maybe a family member of somone with ME, we hope that our new factsheet will give you better understand this disease and its associated symptoms. Please share it widely with friends, family, and colleagues to help us raise awareness and understanding of this important issue.