There is only a week to go until World ME Day on the 12th of May, and as part of this year's theme, #LearnFromME, we have released a series of actions to help you make an impact.
Are you going to take action and help the world #LearnFromME?
If so, how long do you have?
---
60 seconds
Action 1
Post to social media and use your networks to spread awareness.
Action 2:
Ask a healthcare professional to take 5 minutes to #LearnFromME. Do you know someone who works in healthcare? Send them a message today asking them to do their bit for World ME Day and read one of the recently produced guidelines. Ask them to visit www.worldmeday.org to find out more.
Action 3:
Tag a politician in your social media post about World ME Day. It's so important to reach those in power and ask them to #LearnFromME on May 12th.
Action 4:
Donate to our work here [INSERT YOUR OWN DONATION LINK], the work of the Alliance here, and any other members organisations!
---
5 minutes
Action 1:
Create your own custom poster! We've got templates and more than you can customise right here on our website. Then just save your poster and share it to social media, with friends and family. Below are some that have been made already.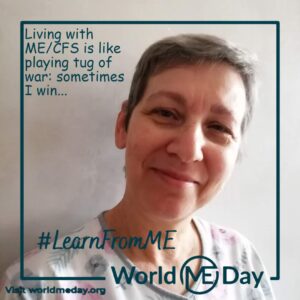 Action 2:
We need to reach the people with power to make difference – that means healthcare professionals and politicians.
Use your custom poster to reach out to someone in power. Send it to a healthcare professional or politician and ask them to take action to #LearnFromME this World ME Day.
---
Longer
Action 1:
One way we can make a major impact is to tell our stories to a bigger audience. To do this, we need to get into the press. That could be a local newspaper, a university news site, a radio or tv program. It could have a huge readership or a small one, but it will still be worthwhile.
This action takes more energy and time, but could reach loads of people. We've produced a guide to pitching your story to press. Download and send your first pitch today.
Download the guide and tell your story
Action 2:
You could have a longer term impact by getting involved in an organisation near you. Many of our member organisations are entirely or partly volunteer run. Reach out to an organisation near you and offer to volunteer today.
Find an organisation to get involved in
---
Actions for Healthcare Professionals
As a healthcare professional it is vital that you understand the principles of care for people with ME.
Two new guidelines have been published in the last year that completely redefine best practice. This World ME Day, we are asking you to take the time to read one of these guidelines.
ME/CFS: Essentials of Diagnosis and Management – Mayo Clinic Proceedings
ME/CFS: diagnosis and management – NICE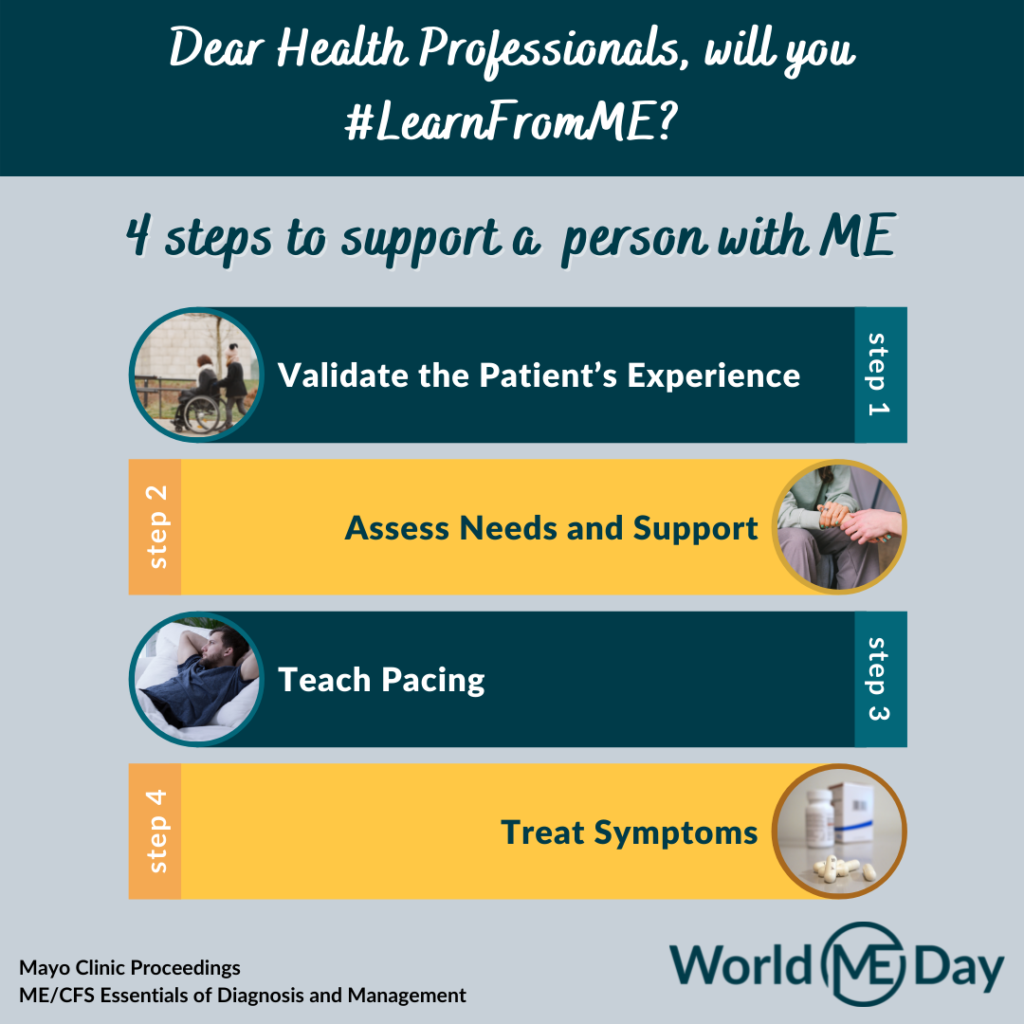 ---
We are excited to see organisations and individuals across the globe engaging in these actions and more.
Find out more about what other organisations are doing around the world at worldmeday.org